LIVE INTERACTIVE Webinars
Perspectives & Strategies

that

Optimize

Performance and

Empower

Leadership Teams
UNIQUE Content Only Found Here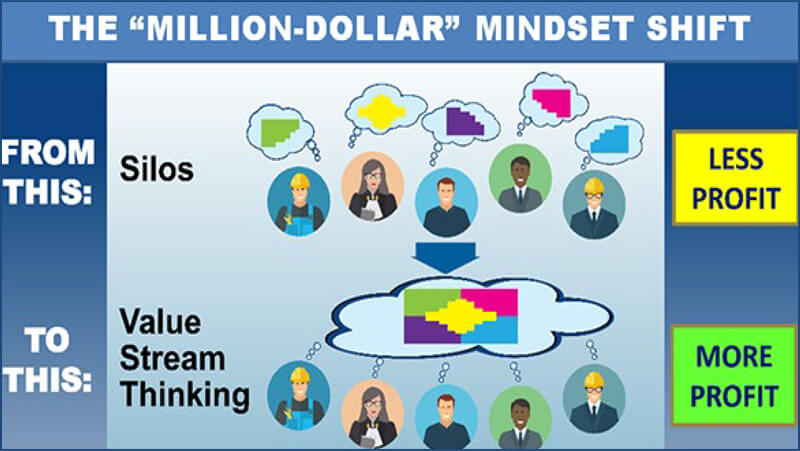 1) Management Barriers to Optimization and Change (under development)
Executives and leadership teams focus on increasing production and sales, reducing costs and managing departments to make more money. They have no awareness about why companies leave Millions of Dollars on the Table, why Mistrust and Weak Department Relationships are part of the Corporate Culture, or why management teams accept Slow/Unsustainable Change as Normal or "Just the Way It Is Here",
There are invisible barriers that exist within the management system that are root causes of ALL OF THESE PROBLEMS! These barriers make it harder to increase profit, harder to cut costs, harder to manage people, harder to prevent surprises, and harder to drive and sustain change. Managing without knowing your barriers means that you can't take action to remove them. It also means that the losses caused by these barriers continue unabated for years, even decades.

BARRIER REMOVAL IS THE ONE SKILL THAT VIRTUALLY NO LEADERS HAVE because there is no understanding between these barriers and their impact on profit, culture and change. When you understand the links, you very quickly see how easy it is to remove many of them. 
This interactive webinar series will enlighten every leadership team (executives, division management, site management) because the barriers are the same regardless of the product, service, size of company and level on the organization chart.
Four categories of management barriers are embedded within the management system:
PART 1: Overview of Management System Barriers – Ma

nagement's Role, Perspectives/Choices linked to profit, culture, change

PART 2: Barriers that "HIDE" profit potential.

PART 3: Barriers that "DIVIDE" people.

PART 4: Barriers that "HINDER" change.

PART 5: MOABs – "Mother Of All Barriers" that do ALL THREE simultaneously!
There is NO OTHER TRAINING like this anywhere! Much of the content for this series came from Kay's 3-year study of management's barriers to change. (See this website for more information on that study.)
Once your team completes this series, your team will:
Have new awareness about how you people are thinking and working together, and how that impacts performance and change.

Recognize barriers that you learned about and understand how they are impacting your company's ability to achieve "best possible" performance.

No longer accept your barriers as something that cannot be changed.

Understand the barriers within the management team and make choices that remove them. 
2) Spend a Day with Kay – Time with Your Team to Address Your Problems

New Clients: Kay assesses their current performance state, corporate culture, readiness of the management team for change and begins to evaluate their profit potential. Learnings from this day can be used to launch an effort to improve performance or develop a scope of work for the MiningOpportunity program.  
Existing clients can choose this follow-up to evaluate their progress and receive focused and honest feedback that will help teams take immediate action. Q&A, pitfalls and your challenges will be covered. Kay will tell you what you are exceling and what you need to change to get the desired result. Kay will work with you to firm up an agenda for the day that maximizes your value and the audience that would benefit the most from attending.
EXECUTIVES and MANAGEMENT TEAMS will gain new perspectives and skills designed to generate "BEST POSSIBLE" Results! Sessions will focus on your concerns.


OPPORTUNITY: The only element with an infinite atomic number and weight. An odorless invisible element defined as a hidden or substandard set of circumstances in business that, when not acted upon, creates invisible losses that reduce profit. These losses can be eliminated by management when linked to beliefs, behaviors and numbers that drive the corporate culture, yielding a desirable green substance found in financial institutions.