Kay Sever is THE EXPERT on HIDDEN LOSSES
Due to Weak Corporate Cultures/Organizations.
She Created MiningOpportunity to #StopYourLosses.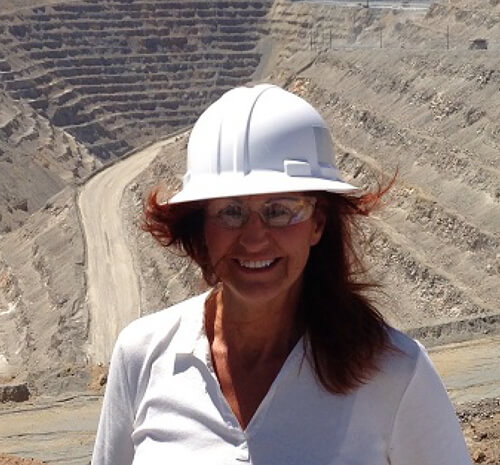 KAY'S FOCUS IS DIFFERENT… So You Get A Different Result! 
Companies know how much money they made by looking at the income statement… but they DON'T KNOW how much they lost due to weaknesses in the culture and organization. Kay Sever can finally help you answer that question!
Kay has worked side by side with corporate and production sites in a management/leadership/consulting role for 35+ years. She helps management teams improve performance, profit, culture and change, but does it in a way that connects people and the corporate culture to their hidden potential. Kay helps companies move "beyond improvement" to a state of "sustained optimization". With her guidance and the MiningOpportunity system, management teams can measure the losses caused by weaknesses in their current culture, shift to a Loss Reduction Culture to reduce the losses, and "manage" the gains from the new culture as a second income stream.      
Kay knows how to "pull the curtain back" on losses that have been incurred for decades without the knowledge of executives, managers or the board of directors. Kay knows these losses are real because she has years of experience finding, quantifying and helping management teams take action to reduce them. She can share many case studies that prove that corporate culture losses exist (a few case studies can be found on this website).
Kay also knows how to use loss data to create a culture most companies would dream about… one armed with
the knowledge and skills to stop hidden losses caused by the culture,
the desire to unite to solve problems and create the best result for the company, not just one department,
the skills to "escape the confines of the org chart" so managers can work horizontally to achieve "site-wide" optimization.
LET'S BE CLEAR…this kind of culture is not an "improvement culture" where "getting better" is the goal; instead, it is a "vision-based culture" where people come to work with the intent, tools and tactics to achieve their "best performance" every single day. They know what causes hidden losses and they know how to prevent them. A "Loss Reduction Culture" can maximize profit without sacrificing quality, safety or regulatory compliance.     
VERY FEW PEOPLE know how to lead companies through this kind of culture-shift!
NO colleges, executive programs or management development classes teach these concepts or skills. Financial systems were NEVER DESIGNED to track or report profit potential or the losses linked to corporate culture, so management NEVER sees them.  So how did Kay gain these insights and then create a teaching system for management that adds millions of dollars of value by revealing hidden losses and providing strategies, tools and tactics to stop them?
 Kay's Story… How She Became a Leading World Expert on Loss Reduction and Optimization… 
For over three decades, Kay has designed systems and processes for equipment productivity, operations, maintenance, control systems, budgets/forecasts and reporting. For 19 of those years, she worked for three divisions of a Fortune 500 mining company in various leadership roles including four years on site and division manager of accounting/reporting.
Because of her broad systems, operations and accounting experience, Kay was asked to join a select team that helped design and implement a unique optimization initiative. This initiative:
Defined the gap between today's performance and what was possible to achieve.
Exposed areas of financial risk and opportunity that had never been quantified or reported, specifically related to hidden profit potential and the losses caused by the corporate culture. These dollars forever changed the questions that were asked, the problems that were solved, and reported financial results. 
Kay worked with the executive team and site management to:
Develop a methodology for calculating, reporting and communicating losses.
Integrate loss data into key measures and quantitative decision criteria (numbers used for setting goals, budgeting, capital spending, expansions, etc.)
Connect loss data to qualitative activities like communications, interactions within management teams and with the workforce, and strategies for sustainable change.
After the loss tracking system was implemented, Kay became the company expert in hidden profit potential and culture losses;   she coached executives and site management teams across the company on how to "mine" their losses, convert them to profit, and shift the culture to a loss reduction focus. This "culture shift" delivered $20,000,000 of extra profit over 18 months in Kay's division alone. The following year commodity prices fell to 100-YEAR LOWS. While competitors were parking equipment and laying off hundreds of people, the metals division was able to BREAK-EVEN and continued to operate because a Loss Reduction Culture was in place.
This amazing achievement was possible because executives and all levels of management knew how to interpret loss data and incorporate it into a new way of managing the company. Their level of success had nothing to do with products, services or size of the company. At the end of the day, the new culture and management's greatness as leaders depended on three things:
Their perspectives about what was possible to achieve and change.
Their choices as they interacted with each other and the workforce.
Their unwavering commitment to their roles in the culture transformation process.
OptimiZ Consulting LLC is Born…
In 2000, a merger gave Kay the opportunity to share what her knowledge and expertise with other companies, so OptimiZ Consulting LLC was born. Kay is a management coach and certified management consultant. Only 1% of all consultants achieve this certification which is heavily based on client satisfaction and ethical work practices. These qualifications (combined with her broad field and corporate experience) makes her a great business partner if change and optimization are your goals. She works with executives and all levels of management across the value stream to improve performance and the culture (in all functions within operations, maintenance, procurement, marketing, accounting, human resources, permitting, engineering, etc.) 
Kay's high-value expertise is the core of her consulting and coaching services. She is always looking for "what's missing" from profit, the culture and change. This mindset "expands" the problems and opportunities that she identifies and helps her ask questions that other consultants overlook as she works with clients to reduce costs, improve performance, optimize equipment/processes, avoid/postpone capital, set achievable targets, and change the culture. Kay's client list includes Rio Tinto, Peabody, ICG, Freeport, Cleveland Cliffs and others.       
IT'S 2019… Time to "Mine" Your Culture!
Every company, regardless of product or service, needs to know how to "mine" their losses. To help business leaders develop and apply these skills, Kay packaged her knowledge and expertise with loss reduction theory, strategies, tools and tactics into a proven system called MiningOpportunity. With this step by step "culture mining" system and Kay as their coach, executives and management teams can learn how to quantify losses, take specific action to shift the culture, and convert their losses to profit. If optimization is the goal, this shift combined with a few extra culture-building steps will facilitate "site-wide" optimization (i.e., positioning an organization for "best day ever" performance every single day).
Five years ago, Kay completed a 3-year in-depth study of management's barriers to change and optimization. Takeaways from this study were profound and gave Kay many break-through perspectives and "aha" moments about 1) why it is hard for management teams to change and 2) how management teams impact the bottom line with their words and actions. The insights gained from this study displace current accepted change management paradigms and are Kay's alone; the only place you can gain access to them is by working with her and completing the MiningOpportunity training modules. You can learn more about her barrier study on this website.
Here are a few insights you will gain in MiningOpportunity training. You will also learn why they are TRUE!      
Most executives and management teams do not know how much money they left on the table
Hidden loss data is NEW KNOWLEDGE; when used in conjunction with traditional management datasets, new questions are asked, new problems are solved and new financial results are achieved.
A high emphasis on cost reduction can cause hidden losses far greater than the cost savings achieved.
The income potential of your corporate culture can be "managed" as a second income stream.
Management barriers "hide" losses, "divide" people and "hinder" change. It is possible for management teams to remove these barriers with different words and actions. When the barriers come down, a Loss Reduction Culture materializes.
One key to shifting the culture lies in what management wants to protect and what they are willing to trade for… one example is Personal power vs. Team Power.
There is a direct correlation between trust and profit.
Sports teams use "plays" to score points; management teams can use "plays" to remove barriers and accelerate change.
The ROI of the MiningOpportunity system exceeds most ROI targets for two reasons:
1) ROI begins when the first culture loss is discovered and valued, and
2) losses discovered are almost always larger than anticipated, which creates urgency to take action.    
SHIFT YOUR COMPANY'S PERFORMANCE into OVERDRIVE!
#StopYourLosses

OPPORTUNITY: The only element with an infinite atomic number and weight. An odorless invisible element defined as a hidden or substandard set of circumstances in business that, when not acted upon, creates invisible losses that reduce profit. These losses can be eliminated by management when linked to beliefs, behaviors and numbers that drive the corporate culture, yielding a desirable green substance found in financial institutions.