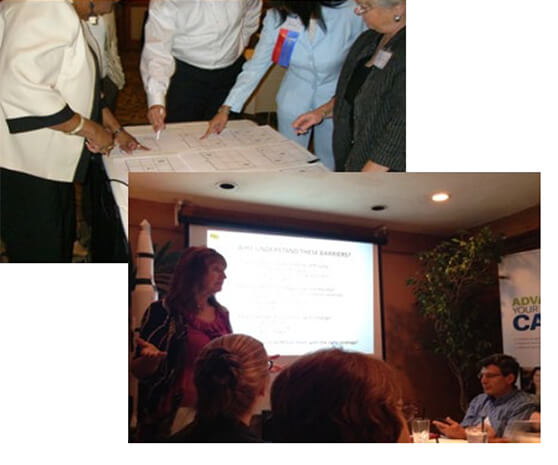 The

VOICE

of
OPPORTUNITY
in

BUSINESS

!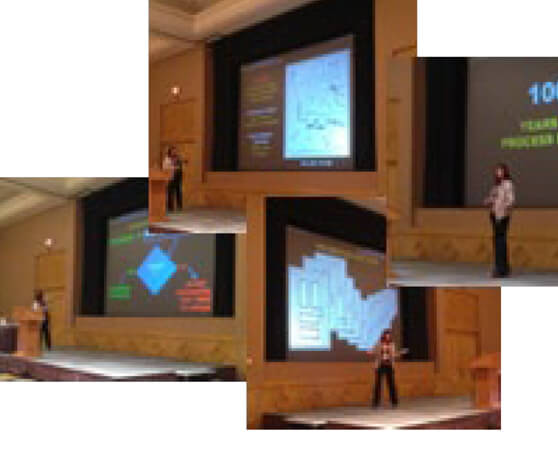 There is NO ACCOUNTING SYSTEM for OPPORTUNITY, which means leadership teams NEVER SEE the money they are "leaving on the table". Without data for profit opportunities, millions of dollars of "profit potential" remain just out of reach… never measured or converted to reported income.  

Kay Sever helps leaders understand what they are leaving on the table and teaches them how to convert profit opportunities to profit. Very few people in the world have a grasp of profit potential and know how to make it available to leadership teams. With data for opportunity, executives and management teams gain new perspectives about the business and can ask new questions, solve "old" problems, and make more money with NO CAPITAL investment. Leaders that work with Kay NEVER GO BACK to their OLD WAY of THINKING or WORKING TOGETHER… That's When Real and Lasting Change Happens!
Kay has helped companies find over $100,000,000 so far!
Kay's UNIQUE INSIGHTS on OPPORTUNITY, PROFIT, CULTURE and CHANGE prompt leaders to TAKE ACTION… a

TRUE

GIFT

for business people today!
TALK TO KAY TODAY  if your company or event is looking for content and an "experience" that

IS DELIVERED

LIVESTREAM

!
IS FRESH, INNOVATIVE, MEMORABLE AND REALLY DIFFERENT!
CAN BE IMMEDIATELY INTEGRATED INTO WORK PRACTICES AND DECISION-MAKING!
DRIVES RADICAL, RAPID AND SUSTAINABLE CHANGE!
Whether in front of live audiences, live streaming, or doing a radio broadcast, Kay's EXPERT TOPICS bring new perspectives about how to make more money, have fewer problems, strengthen relationships and accelerate change…  

Kay's props, stories, case studies and analogies connect with common management challenges.

Kay works to create "memory anchors" (i.e., lasting takeaways that can be "recalled" when needed).

Kay leads companies through a culture shift to eliminate their losses… FREE MONEY from new insights and actions.
Kay completed a 3-YEAR IN-DEPTH STUDY of MANAGEMENT'S BARRIERS TO CHANGE AND OPTIMIZATION and shares her insights and "aha moments" with audiences.

Kay create

d a PROVEN SYSTEM for Achieving "Best Possible" Performance and Removing the Barriers that Stand in the Way. This system is UNIQUE because it 1) contains an accounting system for Dollars "Left on the Table" (opportunities), 2) shapes New Perspectives and Choices Linked to those Dollars, and 3) offers Action Plans that Convert Losses to Profit for Free!
LIVESTREAM or IN-PERSON TOPICS ARE FOR ALL INDUSTRIES, REGARDLESS OF PRODUCT, SERVICE OR SIZE OF COMPANY!:
How Much is Your Corporate Culture Costing You?
Most companies don't know how much their corporate culture is costing them!  When cultures are weak, they create hidden losses that can run into the millions of dollars, but go undetected because financial systems were NEVER DESIGNED to give them that information. Once your management team knows their culture losses, they can take action that will StopYourLosses! Raising awareness about developing a culture focused on losses gives your management team a new way to think about the business and their power to maximize earnings. THIS INFORMATION IS NOT AVAILABLE ANYWHERE ELSE! Kay's analogies, case studies, props and stories will leave the audience with "memory anchors" that will activate when they return to their work and their cultures. With the new insights they will gain, they will NEVER GO BACK to their old way of thinking!

"On Budget But Losing Millions"… A Two-Dimensional Problem with a Three-Dimensional Solution
Companies take pride in meeting budget, unaware of significant losses that occurred during the process. These unrecorded losses are caused by the organization/culture (how people think and work with equipment and each other). Actual and budget data give a "two-dimensional view" of performance that includes these losses, so management never sees them! When losses are exposed, engineers and managers have a "three-dimensional view" of potential that can be used to set stretch targets, assess capital/expansions, and shift the culture into "loss reduction mode". I include actual case studies that came from my work with clients. All of these losses stem from the culture (how people think and work together, especially the management team): $17,000,000, $4,000,000, $3,000,000, $24,000,000 and an $80,000,000 loss that was avoided because management gained access to data that quantified their hidden capacity before  expansion capital was approved. This information IS NOT AVAILABLE anywhere else!
Trust & Credibility – Lost "In A Moment" with the Wrong Choice
Organizational Trust is established via management credibility (meeting expectations, keeping promises). Maintaining credibility requires a mindset prepared to make choices that build it coupled with the courage to make them. Because the connection between trust and performance is poorly understood, trust is undervalued by most management teams. Without trust, companies cannot achieve their improvement goals, change is slow and becomes a game that everyone plays but nobody wins, important problems go unsolved for years, and management works harder at maintaining their power than empowering their people. Stories and case studies about barriers to change deliver "breakthrough perspectives" about management's role in change and what is possible to change and achieve. The content in this session can be customized for your audience and can also be delivered as a keynote or workshop with exercises. THIS INFORMATION IS NOT AVAILABLE ANYWHERE ELSE!
Manage Your MOABS ("Mother Of All Barriers" to Change) for Higher Profit and Faster Change
We are taught to believe that change takes a long time. After performing a 3-year study of management's barriers to change and optimization, I discovered something I call a MOAB (Mother of All Barriers to change). If management does not know how to MANAGE THEIR MOABS, they can spend millions of dollars on change initiatives and sacrifice gains in income, culture change and sustainable change without knowing it. Your management team needs to know how to recognize their MOAB moments and learn how to manage them to avoid or mitigate their associated losses. Millions of dollars can be as risk and lost in a moment, not over months or years. YOU CAN'T LEARN ABOUT THIS TOPIC ANYWHERE ELSE! The content in this session can be customized for your audience and can also be delivered as a keynote or workshop with exercises.
We have been Starting in the Wrong Place with Change for 100 Years!
Process improvement began in its infancy over 100 years ago in Ford Motor Company with simple measurements to control quality on the assembly line. Since that time, improvement and change have focused heavily on business processes and have become more and more complex. Were you aware that the greatest barriers to success with change initiatives are NOT ADDRESSED by those initiatives, which is one reason that companies more from initiative to initiative seeking the "silver bullet" that will solve the problems they have never been able to solve? For the past 100 years, we have overlooked the management system as a primary source of barriers to change. This session reveals those barriers and connects them to profit, culture, change and management credibility. If these barriers are removed, all bets are off on what you can achieve as a team of people! YOU CAN'T LEARN ABOUT THIS TOPIC ANYWHERE ELSE!
SPEND A DAY WITH KAY! (Customized session for your group) Kay can customize interactive workshops that complement your conference theme. The time you spend with Kay will reveal barriers that are holding your audiences back from reaching their financial and cultural goals. Areas of focus can include corporate culture weaknesses, hidden losses, silos, management team dysfunction/disunity, slow change, etc. Contact Kay to discuss the possibilities! Can be delivered live stream!
TESTIMONIALS from event planners, clients and audience members:
"I am happy because you are teaching my people to think like I do!"   J. Huang, CEO, Chinalco Peru
"Kay

helped our managers see the world differently and zero in on the best value opportunities

…   Kay knows how to change a culture."  Richard Robison, Senior Vice President, Peabody Energy
"Kay is one of the most enthusiastic and inspiring speakers I have worked with. She was recently involved in our Mining Procurement & Supply event at the East Coast and I have already confirmed her to join us again at the same event on the West Coast of Australia. Her ability to transfer knowledge whilst managing to captivate an audience… is second to none and I would not hesitate to invite Kay back again or recommend her to any prospective business partners."  Teresa Bildstein, Senior Portfolio Manager, Mining IQ, a division of IQPC
"Whether hilarious or sobering, your stories deliver an eye-opening look at how organizations prevent employees from delivering their best."  Kim Davis, Event Manager, MINING MEDIA, INC.
"Your presentation held up a mirror to executives and opened their eyes to unintended consequences of their best intentions."  

Mark G. Ellis, President, INDUSTRIAL MINERALS ASSOCIATION OF NORTH AMERICA
"You said that the root cause of many corporate problems and low morale is poor management choices. Thanks for sharing these words of wisdom." William M. Reid, VP Product Development, AMPHEROL FIBER SYSTEMS INTERNATIONAL
VIDEOS FROM EVENTS
INTERNATIONAL CONFERENCE SESSIONS
LIMA, PERU
International Symposium of
Mine Management
Competitive Advantage Through
Culture Change
PERTH, AUSTRALIA
Mining Procurement and
Supply West Coast
Procurement's Role in
Optimization
BRISBANE, AUSTRALIA
Mining Procurement and
Supply East Coast
Procurement's Role in
Optimization
CREATING "MEMORY ANCHORS" THAT REVEAL LOSSES, SHAPE CULTURE AND SUSTAIN CHANGE: PROPS, ANALOGIES, STORIES, CASE STUDIES

Innovative Analogies
That Drive Change
TRUST: The Link Between
Profit and Culture
Building an
Opportunity Culture
Sample Stories and
Memorable Moments
Exposing the Truth
About Change
6 Words for
Culture Change
The High Cost of
Mixed Messages
Thoughts on Trust, Culture and
Management's Role in Change
KFNX 1100AM RADIO SHOWS: KEY MESSAGES ABOUT THE UNSPOKEN BARRIERS TO CHANGE
Barriers and
Management Credibility
Problems Accepted as
Part of the Process
Execution and
Capturing the Value
Inconsistent Work
Practices
Changing Management's
Perspective
Truth and Trust
in the Workplace
Root Causes of
Barriers to Change

OPPORTUNITY: The only element with an infinite atomic number and weight. An odorless invisible element defined as a hidden or substandard set of circumstances in business that, when not acted upon, creates invisible losses that reduce profit. These losses can be eliminated by management when linked to beliefs, behaviors and numbers that drive the corporate culture, yielding a desirable green substance found in financial institutions.