My 3-Year Study Revealed Hidden Management Barriers to Change & Optimization…
 Leaders Have the Power
to Remove Them All!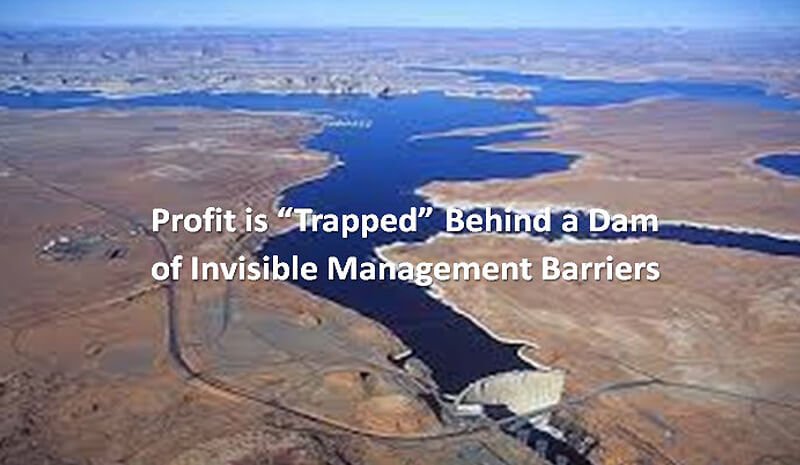 A MILLION-DOLLAR QUESTION About CHANGE
Over a century ago during the time of Henry Ford, simple measures were taken on the assembly line to control quality. As the decades passed, methodologies for change became more complex, moving from process measures to TQM and continuous improvement in the 60's and 70's to Six Sigma in the 80's and Lean in the 90's. Today's methods are the most complex, technically sophisticated and expensive in history, but they still often fail to deliver or sustain the expected result.
Why Is That?
The answer to this question is worth MILLIONS OF DOLLARS! It involves the common barriers shared by all companies regardless of company size, product, or service… barriers NOT ADDRESSED by change initiatives. If you know how to remove these barriers, you can achieve "best possible" performance, maximize profit, have a great corporate culture, change faster and perform circles around your competition. How do I know this? Because of what I learned in my optimization work with companies and my 3-year barrier study…
My Unique Study of Management Barriers
Several years ago, I began recognizing patterns as I worked with people in all management levels. All of these patterns involved management – patterns in thought, patterns in behaviors and patterns in choices that made the difference between success and failure. I began studying these patterns because they made everything harder to do and because there were always losses associated with them, sometimes significant losses that could have been captured or avoided… but weren't! I used out-of-the-box thinking to understand the dynamics at work; my journey was exciting and the insights I gained in my study gave me the answers and strategies I was looking for!
What I Learned: Observations & Insights

The following audio contains insights about barriers to change and optimization that I shared with several hundred people at a large mining conference. In it, I talk about why companies fall short of the performance they are capable of achieving and reveal some of the management barriers that are to blame. This information and much more is included in MiningOpportunity barrier removal training sessions.
Management Barrier Groups
"…THERE WERE NOT 20 REASONS WHY WE COULD NOT MAXIMIZE PERFORMANCE. THERE WERE NOT 10 REASONS. THE SAME 4 REASONS WERE THE ROOT CAUSE OF EVERY FINANCIAL SHORTFALL AND FAILURE TO CHANGE… ALL CAME FROM THE SAME SOURCE… FROM INSIDE THE MANAGEMENT SYSTEM." Kay Sever speaking about Barriers to Change and Optimization at a Mining Convention in 2013
As I stated in the above quote, there are four kinds of management barriers… the first three kinds "hide" potential profit, "divide" people that need to work together to capture potential profit, and "hinder" change. These barriers form a kind of dam that traps potential behind it. If management teams know how to recognize and remove these barriers, they are empowered with information that forever changes their perspectives and ability to influence performance, change and profit generation.
NEW DISCOVERY: During my barrier study, I discovered a fourth kind of management barrier that SIMULTANEOUSLY affects profit, culture and change. I call these barriers "MOABs" (Mother of All Barriers). When management teams learn how to "manage their MOABs", they remove the final source of "improvement sabotage" and move to a level of trust, collaboration and credibility that few management teams achieve.
QUESTIONS:
WHAT IF "DEMOLITION OF BARRIERS" WAS A STRATEGY TO MAXIMIZE RESULTS?
WHAT IF LEADERSHIP TEAMS HAD "PLAYS" FOR REMOVING BARRIERS, SIMILAR TO PLAYS FOR SPORTS TEAMS?
IF A LEADERSHIP TEAM DEMOLISHED ITS "BARRIER DAM", HOW MUCH MORE MONEY COULD THE COMPANY MAKE?
HOW MUCH LONGER COULD THEY SUSTAIN CHANGE?
Change and Racing
I grew up in Indiana and remember listening to the Indianapolis 500 on the radio every year with my family. I still follow the race and even watched it in Lima when I was there on business. One year during the race, I realized that change could be like racing…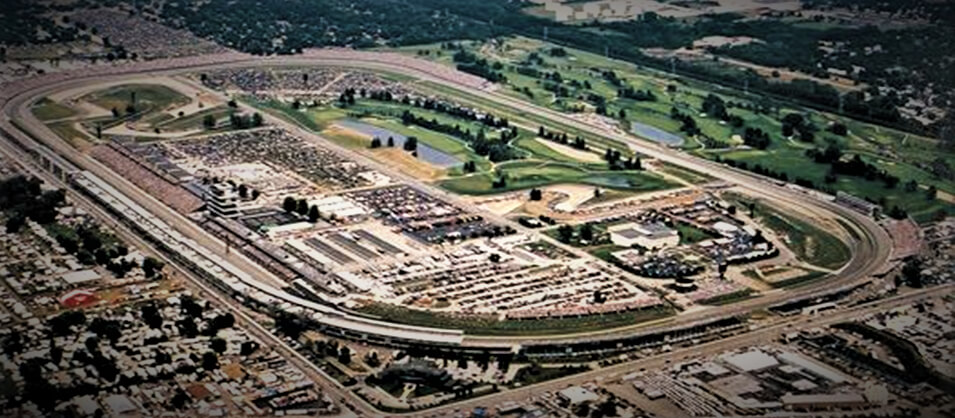 In auto racing, car owners invest huge sums of money to create the opportunity to win the race. Pit crews train to Six Sigma levels of excellence. On race day, if there is any obstacle on the track, people run out on the track to clear it before the race begins so the cars can maximize their speed and win the race. In racing, NO BARRIERS ARE ALLOWED!
In companies, we invest millions of dollars in equipment and systems with the intent of "winning" for shareholders. But here's the difference between racing and change… we start change without removing our barriers. Instead, we hope that barriers will "disappear" during the change process, which doesn't always happen. Barriers linked to process changes disappear when process improvements are made, but barriers created by management patterns do not.
REMEMBER: Management barriers have NO NATURAL ENEMIES… they must be intentionally removed!

QUESTIONS:
WHAT WOULD HAPPEN IF YOU TREATED THESE BARRIERS LIKE OBSTACLES ON A RACE TRACK?
HOW MUCH MORE MONEY COULD YOU MAKE?
IF YOU STARTED LOOKING FOR BARRIERS, HOW MUCH FASTER COULD YOU CHANGE?
Change and Rockets
All rockets before the Saturn V were two stage rockets… one blasted off and the other orbited the earth. Until the Saturn V rocket was invented, our astronauts had NO WAY to escape earth's gravity. The third stage of the Saturn V took the astronauts to the Moon and back. When I stood under the Saturn V at the Cape Canaveral Space Museum, I realized that change and the Saturn V had a common theme…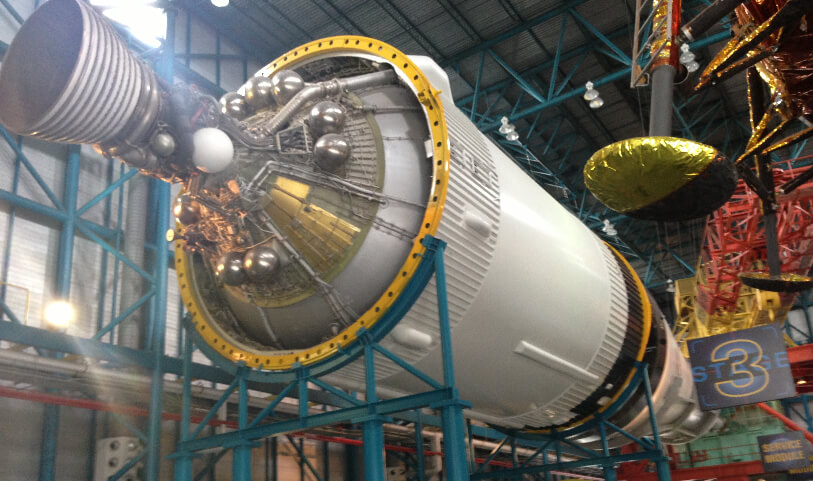 Many experts would say there is one stage to optimization… invest millions of dollars in new equipment and systems designed to take the bottlenecks out of the production value stream. When the equipment goes live, performance is tracked, ROI is reported and optimization is considered complete.
My optimization approach DOES NOT REQUIRE new equipment or systems. Instead, the goal is to expose and convert existing profit potential across the company (left on the table) to reported income. I believe there are THREE STAGES to OPTIMIZATION, one for assets (Stage 1), one for the organization (Stage 2) and one for management (Stage 3). If the optimization scope only includes Stage 1, overlooked organizational and management weaknesses will cancel out some of the gains made by Stage 1. If the scope excludes Stage 3, overlooked management weaknesses will cancel out gains made by Stages 1 and 2. Millions of dollars of profit potential can be at risk if all three stages are not included in optimization efforts.

Stage 3 of the Saturn V removed the gravity barrier and made Moon Missions possible. Stage 3 optimization work removes all remaining barriers, which makes "site-wide" optimization possible and sustainable.
In Stage 3, leadership teams
discover that they have way more power over profit, culture and change than they thought they did.
learn that they are closer to achieving their goals for "best possible" performance than they think they are.
gain skills to "escape"/remove the barriers that have been sabotaging profit, culture and change for years.
Stage 3 work CAN'T BE SKIPPED… if it is, sustainability will NOT be possible.
QUESTIONS:
IF YOU KNEW THAT MANAGEMENT CHOICES HAD VALUE, WOULD IT BE EASIER FOR YOU TO MAKE A DIFFERENT CHOICE?
IF YOUR TEAM COULD JOIN FORCES TO "MOVE BEYOND BUDGET" TO THE "BEST YOU COULD BE", WOULD THEY DO IT?
IF YOU KNEW THAT SUSTAINABILITY RESTED WITH MANAGEMENT, WOULD YOU BE MORE OPEN TO CHANGING TO SUSTAIN YOUR GAINS?
The Next Logical Step
As I progressed in my study, it became obvious that the secret to amazing performance and fast change lies in an understanding of what is holding us back and our ability to "clear the track", not in pursuing change in the midst of barriers, hoping for the best result. This is a very different way of looking at change! It is also a VERY DIFFERENT WAY to MAKE MONEY!
It was time to fill the 100-year-old gap in change methodology with a system designed to give management the insights, tools and tactics to maximize earnings, change the culture and "escape their barriers"! Its content would:
Give management teams more control over financial and cultural performance.

Include the insights from this study and teach tactics for barrier removal and "alignment".

Help them meet expectations for change.

Help them maximize profit and extract the full earnings potential from their equipment AND their people.

MAKE IT EASIER TO MAKE MONEY, CREATE GREAT WORKING RELATIONSHIPS AND CHANGE FASTER!
MiningOpportunity

was Born!
MiningOpportunity is the WORLD'S FIRST OPTIMIZATION AND BARRIER REMOVAL SYSTEM for management teams.
You Cannot Wait One More Day For This Kind of Training!
MiningOpportunity delivers More Money,

Fewer Problems

, Happier People and Faster Change!
It's Time for YOUR LEADERS to become DEMOLITION EXPERTS!
It's Time to CLEAR THE TRACK so you can WIN THE RACE TO OPTIMIZATION!
It's Time to ESCAPE THE BARRIERS that are HOLDING YOU BACK!

OPPORTUNITY: The only element with an infinite atomic number and weight. An odorless invisible element defined as a hidden or substandard set of circumstances in business that, when not acted upon, creates invisible losses that reduce profit. These losses can be eliminated by management when linked to beliefs, behaviors and numbers that drive the corporate culture, yielding a desirable green substance found in financial institutions.