My 3-Year Study Revealed Hidden Management Barriers to Change & Optimization…
and Management's Power
to Remove Them All!
 #StopYourLosses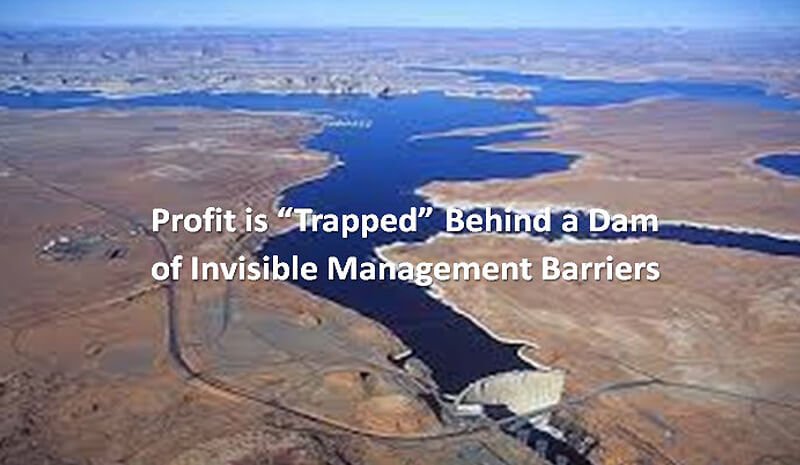 "…THERE WERE NOT 20 REASONS WHY WE COULDN'T MAXIMIZE PERFORMANCE. THERE WERE NOT 10 REASONS. THE SAME 4 REASONS WERE THE ROOT CAUSE OF EVERY FINANCIAL SHORTFALL AND FAILURE TO CHANGE… ALL CAME FROM THE SAME SOURCE… FROM INSIDE THE MANAGEMENT SYSTEM." Kay Sever speaking about Barriers to Change and Optimization at a Convention in 2013
WHY WAS IT IMPORTANT TO STUDY THE BARRIERS TO OPTIMIZATION AND CHANGE?
I help companies improve performance, cost, culture, and change with the intent of increasing profit. I also put them on a path to "full" optimization. Several years ago, I began recognizing patterns in my work with clients. The same patterns surfaced regardless of the scope of work. All of these patterns involved management – patterns in thought, patterns in behaviors and patterns in choices that made the difference  between success and failure.
I will say this again…. all of these patterns involved management – patterns in thought, patterns in behaviors and patterns in choices. They did not involve equipment or systems. They did not involve products or services. They surfaced regardless of the number of employees, sites or divisions.
I began studying these patterns because there were always losses associated with them, sometimes significant losses that could have been captured or avoided… but weren't!
Millions in production losses and increased costs that were not recognized or known.

Project overruns or delays, sometimes in the millions of dollars.

Millions in losses "trapped" in the culture by mistrust, fear of talking about problems, and Interactions between departments.

Lost management credibility is a product of these losses that drives other financial losses.
All three types of patterns create barriers to change, but are overlooked or inadequately addressed by change initiatives. These patterns work behind the scenes to steal profit, hurt culture and management credibility, and prevent change.
My goal is always to maximize profit and change for my clients. I knew that I could never help them OVERCOME the barriers that were holding them back without understanding what was driving these patterns.
WHAT MY BARRIER STUDY REVEALED
When I began studying these patterns, I knew I had to think out of the box. Assumptions had been made for decades about change and change methodologies, but what I was observing was outside the scope of traditional processes for change…
HISTORY OF CHANGE: Since the time of Henry Ford, change in business has started with processes, looking for a better way to do things, measure things, control quality, etc. One hundred years ago, simple measures were taken on the assembly line to control the quality of cars on the mass production line. As the decades past, the methodologies for change became more complex, moving from simple process measures to TQM and continuous improvement in the 60's and 70's to Six Sigma in the 80's and Lean in the 90's. Over time, the methods for change grew increasingly complex and required more resources and significant investments. Getting the return on that investment became more and more important. When executives set expectations with the board of directors about future gains from change initiatives, their credibility is at stake, but widely-accepted tools and methods for change (that executives rely on) do not consistently deliver the expected result.
Why is that?
CHANGE AND RACING: In auto racing, car owners invest huge sums of money to create the opportunity to win the race. Pit crews train to Six Sigma levels of excellence. On race day, if there is any obstacle on the track, people hurry to clear it before the race begins so the cars can maximize their speed and win the race. In companies, we invest millions of dollars in equipment and systems with the intent of "winning" for shareholders. But here's the difference between racing and change… we start change without removing our barriers. Instead, we hope that barriers will "disappear" during the change process, which doesn't always happen. Barriers linked to process changes do disappear when process improvements are made, but "root barriers" (the barriers created by the three management patterns) do not. When employees talk about change as the "fruit of the month club", they are experiencing the impact of these barriers as they move from initiative to initiative, hoping for a better result but coming up short every time.
What would happen if we treated these barriers like obstacles on a race track?
How much more money could we make?
If we went looking for these barriers, how much faster could we change?
OPTIMIZATION: If a company's goal is optimization instead of improvement, the "plot thickens" as even more factors appear that interfere with success. Optimization means achieving your best performance every single day with the assets and people you have in place. The goal of optimization is profit maximization, which means that potential profit now becomes the target, regardless of budget goals. And here's where a major invisible barrier popped up: management systems focus on actuals and budget, but not potential. The success of day to day business is measured by comparing actual to plan or budget. Potential (what could have happened but didn't) isn't on the general ledger and isn't on management's radar unless an event happens and the cost of that event is calculated afterwards. I call this gap between the management system and potential "misalignment". Misalignment acts as an invisible "lid" that hides potential. This lid is a barrier to optimization because it limits management beliefs about what is possible to achieve. It also impacts behaviors and choices important to change and optimization. Misalignment reduces ROI on equipment and projects, increases costs and losses, and causes people to unintentionally make choices that "trap" or forfeit profit and sabotage change. To achieve optimization, you need more than equipment or systems… you need new management patterns in thought, behaviors and choices aligned with optimization goals. Otherwise, companies are disconnected from potential and don't know it.
How much more money could be made if management patterns were seen as "profit generators"?
CATEGORIES OF MANAGEMENT BARRIERS: There are three kinds of management barriers… some "hide" potential profit, some "divide" people that need to work together to capture potential profit, and some "hinder" change. If management teams know how to recognize and remove these barriers, they are empowered with information that forever changes their perspectives and ability to influence performance, change and profit generation. I also discovered a new category of management barrier that  SIMULTANEOUSLY affects profit, culture and change. I call these barriers "MOABs" (Mother of All Barriers). When management teams can learn how to manage their MOABs, they move to a new level of trust, collaboration and credibility that few management teams achieve.  

What if DEMOLITION of Barriers was used to Maximize Results in an Organization?
If a management team demolished its "Barrier Dam", how much more money would they make?
How Much Longer Could They Sustain Change?
THE NEXT STEP
As I progressed in my study, it became obvious that the secret to amazing performance and fast change lies in an understanding of what is holding us back and our ability to "clear the track", not in pursuing change in the midst of barriers, hoping for the best result. This is a very different way of looking at change! It is also a VERY DIFFERENT WAY to MAKE MONEY!
It was time to fill the 100-year-old gap in change methodology with a system designed to give management the insights, tools and tactics to maximize earnings, change the culture and "escape their barriers"! Its content would:
Include the insights from this study and teach tactics for barrier removal and "alignment".

Give management teams more control over financial and cultural performance.

Help them meet expectations for change.

Help them maximize profit and extract the full value from their equipment AND their people.



MiningOpportunity is the WORLD'S FIRST BARRIER REMOVAL SYSTEM for management teams.
YOU CANNOT AFFORD TO WAIT ONE MORE DAY FOR THIS KIND OF TRAINING.
MiningOpportunity delivers More Money, Happier People and Faster Change!
IT'S TIME TO SHIFT YOUR COMPANY'S PERFORMANCE INTO OVERDRIVE!
#StopYourLosses

OPPORTUNITY: The only element with an infinite atomic number and weight. An odorless invisible element defined as a hidden or substandard set of circumstances in business that, when not acted upon, creates invisible losses that reduce profit. These losses can be eliminated by management when linked to beliefs, behaviors and numbers that drive the corporate culture, yielding a desirable green substance found in financial institutions.