MiningOpportunity
Management Team Training/Coaching
LIVE STREAM

– NO Travel,

Interactive

, Flexible Schedule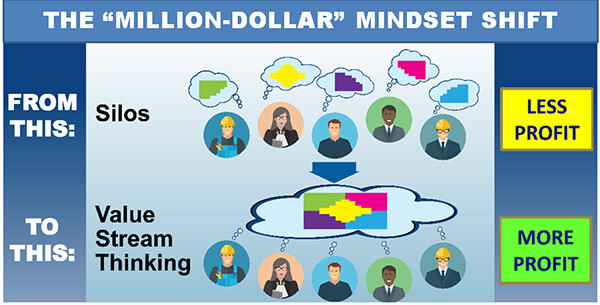 PROVEN METHODS…NO FLUFF…COMMON SENSE APPROACH…HONEST FEEDBACK
about what works and doesn't work when it comes to achieving BEST POSSIBLE performance.
The MiningOpportunity step-by-step process creates a "best possible" platform that helps leaders maintain a "best possible" focus in day-to-day activities, which MAXIMIZES PROFIT and SUSTAINS "BEST POSSIBLE" RESULTS in everything they do. This platform touches assets and the organization, which changes the corporate culture and accelerates change.

MiningOpportunity Training Outline

Begin With the End in Mind – Setting Expectations
Journey Overview

Removing "The Lid"

Numbers Drive Behavior

5 Main Steps to "Best Possible" Results

Case Studies – Dollars Found, "Mining" Examples

Different Questions, Different Problems, Different Solutions, Different Results

Barriers That Will Sabotage Your Efforts

Change Your Perspective… Change Your Performance: Million Dollar Shifts

"Best Possible" Platform – Components

Making Everyone's Job Easier – More Money, Fewer Problems, Happier People, Faster Change

STEP 1: Create Your "Best Possible" Dataset
Examples: Where to Look – Assets, Organization, Management
Let's Go Exploring!
Finding Profit Opportunities – General Guidelines

Valuing Profit Opportunities –

Margin Calculation, 4-Step Valuation Process

Exercises
Managing the Discovery Process:
Reporting Profit Opportunities – Gather Opportunities, Review Valuations, Approve Moving Forward, Track Progress

Top __ List (10,20, etc), What the Totals Mean, Totals Go Up and Down

G/L Connection –

Impact on Revenues/Costs, Event-Based Costs (the 3rd cost category), Expectations of the CFO/Controller (The Goal)
Linking Measures to Dollars
Guidelines for Setting "Best Possible" Targets – Maximum/Minimum/Another Choice (Design, Corporate Culture)


Equipment Optimums – Delays/Capacity/Recovery

Department Optimums – Internal vs. Value Stream Considerations

Management Optimums – Barrier Removal

Exercises
Chart Format
3 Sets of Data Tell a Story, Grouping Charts

Strategies for Use

STEP 2: Four Kinds of Barriers that Prevent "Best Possible" Results
Improvement Sabotage – Exposing "The Lid", Too Much Sunlight/Not Enough Water


Your Barrier Dam -"Hide"/"Divide"/"Hinder"

HIDE Potential

DIVIDE People

HINDER Change

MOABs (Mother of all Barriers) – Simultaneously Affect Profit, Culture and Change – Management Teams

12 Mindsets – Million Dollar Mindset Shifts, Team Assessment


Barrier Removal Strategies

Become Demolition Experts

Hide, Divide, Hinder, MOABs
STEP 3: Change Your Perspective… Change Your Performance!
Group Review of Perspectives – Questions, Confusion, Uncertainties

Concept of Profit Potential

Problems = Opportunity

Valuation of Losses

Selection of Measures

Establishing "Best Possible" Targets

Million Dollar Mindset Shifts

Barrier Removal Concerns

Barrier Removal Tools/Techniques  
Readiness Conversation
STEP 4:  Build Your Best Possible" Platform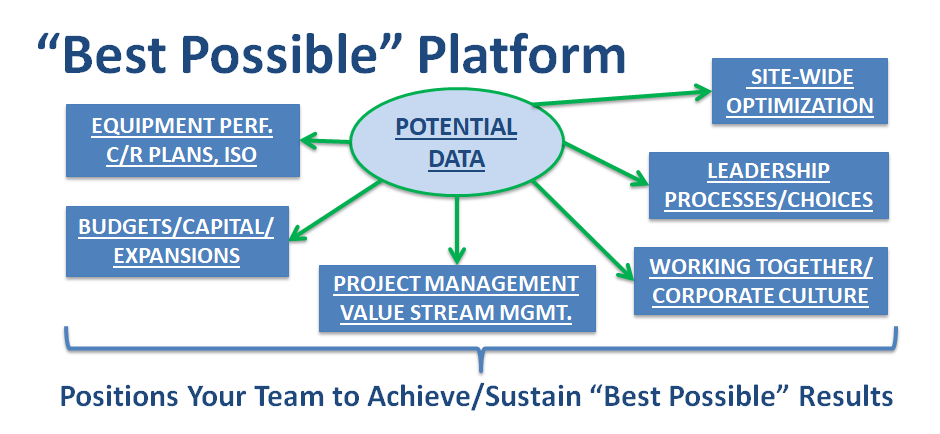 Strategically Link "Best Possible" Data, Concepts and Tools to Elements of the Management System where Profit Potential is Most Likely to be found. Remove Barriers that Stand in Your Way. 
Equipment Management, Control/Response Plans, ISO

Can We Meet Budget? vs. How Good Can We Be?

"Best Possible" Trends for Productivity, Delays, Consumables

Control/Response Plans Minimize Losses

ISO Links to "Best Possible" Metrics and Audits

Strategies: Communicating Trends, Daily Meetings, P

roject Management

Budgets

New Context for Budget Goals, Stretch Goals, Long Term Plans


Example: Drill Utilization

Strategies/Tools: Budget Target Reasonableness Check, Charts in Budget Review Process, Budgeting for Potential?
Capital Requests
Need/Timing Justified with "Best Possible Metrics

Strategies/Tools: Project Management, Process Characteristic Matrix

Expansion Capital
Need/Timing/Placement Justified with "Best Possible Metrics, Can we postpone?

Example: $80,000,000 Expansion almost Misplaced

Strategies/Tools: Capacity Chart, "Big Picture Thinking" (Process Orientation, Value Stream Management, Process Characteristic Matrix)
Working Together/Corporate Culture
Problems = Opportunity, Freedom to Speak, Trust, Mixed Messages, Choices have Value, Truth-Trust-Tons, Trust/Profit Curve, Collaboration/Silos


Examples: Operations vs. Maintenance, Sites vs. Corporate (Hydraulic Part), "Joe" (Trading Personal Power for Team Power) 

Strategies/Tools: Culture Engine, Supervisor Culture Matrix, 11am Meeting, Process Orientation ("Big Picture Thinking"), Process Characteristics Matrix

 
Value Stream Management
Escaping the Confines of the Organization Chart, One Goal, One Team


Examples: Start-Up Process, Permitting

Strategies/Tools: Expectations, Value Stream Capacity Chart, Process Orientation ("Big Picture Thinking"), P

rocess Characteristic Matrix
Leadership Team Processes/Choices
What's Not Working – Expectations/Requirements – Weak Points that Cause Problems

Culture Engine (Truth, Trust, Mixed Messages),

Keep Your Water Clear, Trust vs. Profit Curve


Sports Plays – New Interactions – 11am Meeting, Shift Change Handoff, Supervisor Culture Map 

Barrier Management – Hide/Divide/Hinder Barriers, Collisions (MOABs)

One Goal, One Team – Value Stream Management, Process Characteristics Matrix, Million Dollar Mindset Shifts
Site-Wide Optimization – Assets, Organization, Management – Are We There Yet?
Best Possible" Metrics Used by Production/Support Functions – Profit Potential Identified, Quantified, Reduced

Single Goal that Unites the Workforce and the Leadership Team and Promotes a "One Team" Attitude


People Work Together with "Best Possible" Performance Intentions and a Way to Measure Their Own Performance

New Choices and Interactions Remove Barriers, Maximize Profit and Accelerate Change
NOTE: Some tools listed above were developed by Kay over her career to help leadership teams reveal problems, reduce losses, remove barriers and change faster. They are presented as examples tools and techniques that improved the effectiveness of the workforce and the management team. They may not be needed in your company, depending on your "best possible" goals, data available to management, characteristics of your corporate culture, and barriers that your management team is facing.
STEP 5:  Train to Sustain
The Way We Do Business:

"Best Possible" Performance and Working Together Concepts

New Data, New Perspectives and New Strategies for Managing Assets and the Organization

A New Focus and Way of Working Together – What We Fix, Measure and Talk About

What We Fix: Problems That Prevent "Best Possible" Results, Barriers that Hold Assets and People Back

What We Measure: Dollars Left on the Table,

Measures Linked to Losses, Optimization Progress


What We Talk About: Integrate Losses into Management Decisions/Activities, Problem Solving, Communications
<><><><><><><><><><><><>
Spend a Day with Kay – Annual Refresher – Great for refresher training or an annual retreat as part of your sustainability plan. After establishing your "Best Possible" Platform, meeting once a year lets us reconnect, assess your progress and provide targeted support for the specific issues you may be struggling with. Can be More Than One Day, for existing clients.

Here are the rules for the retreat:
My goal is to make you all experts in "best possible" performance strategies and tactics.
The shift to a "Best Possible" Culture is a new way of doing business… a new way of thinking, new questions, new problems to solve, new ways to solve them, and a new level of performance that you want to sustain for years to come. Some parts of the shift to this new way of working go quickly, others may take more time until you feel confident.
We can do One Day per site, One Day per division… We will plan the number of days we need together before we meet. 
You set the agenda. Any question related anything we covered in any of the training sessions is OK.
You select the attendees. I will review the attendee list and may suggest that additional people participate for certain parts of our discussion.
Our goal is to SOLVE AS MANY OF YOUR PROBLEMS AS POSSIBLE so you can avoid backsliding and continue to make progress.

OPPORTUNITY: The only element with an infinite atomic number and weight. An odorless invisible element defined as a hidden or substandard set of circumstances in business that, when not acted upon, creates invisible losses that reduce profit. These losses can be eliminated by management when linked to beliefs, behaviors and numbers that drive the corporate culture, yielding a desirable green substance found in financial institutions.