Executive/Management Team
Training & Coaching
 World-Wide Live Stream
Support At Your Location…
No Travel Cost, Flexible Schedule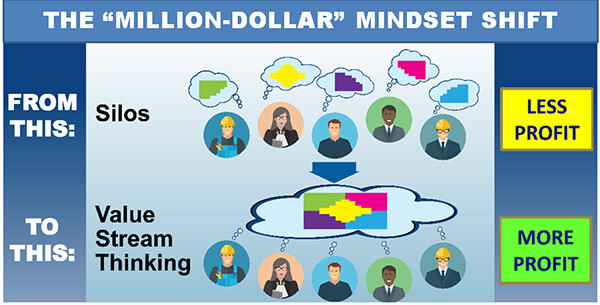 How much money has your company "left on the table" due to your corporate culture?
In mid-large companies, millions of dollars are forfeited because of the way people think and work together. These losses reduce income but are not tracked or reported. If you could learn how to identify your culture losses and "shift" the culture to correct its weaknesses,  how much more money could you make? How much happier would your people be? How much faster could you change?
Now, for the very first time, you can find out!
IT'S 2019… Time to "Mine" Your Culture!
Every company, regardless of product or service, needs to know how to "mine" their losses. To help business leaders develop and apply these skills, Kay packaged her knowledge and expertise with loss reduction theory, strategies, tools and tactics into a proven system called MiningOpportunity. With this step by step "culture mining" system and Kay as their coach, executives and management teams can learn how to quantify losses, take specific action to shift the culture, and convert their losses to profit. If optimization is the goal, this shift combined with a few extra culture-building steps will facilitate "site-wide" optimization (i.e., positioning an organization for "best day ever" performance every single day).
Here are a few insights you will gain in MiningOpportunity training. You will also learn why they are TRUE!      
Most executives and management teams do not know how much money they left on the table.
Most executives and management teams do not know the profit potential of their people, corporate culture and organizations.
Most executives and management teams do not know that it is possible to measure the impact of corporate culture on profit.
A high emphasis on cost reduction can cause hidden losses far greater than the cost savings achieved.
The income potential of your corporate culture can be "managed" as a second income stream.
Management barriers "hide" losses, "divide" people and "hinder" change. Management teams can learn how to remove them all.
Culture is influenced by what leaders protect and what they are willing to trade for (i.e., trading Personal Power for Team Power).
There is a direct correlation between trust and profit.
Sports teams use "plays" to score points; management teams can use "plays" to remove barriers and accelerate change.
When culture loss data is combined with actual and budget data, new questions are asked, new problems are solved and new financial results are achieved.
The ROI of the MiningOpportunity system exceeds most ROI targets for three reasons:
1) ROI begins when the first culture loss is discovered and valued.
2) Losses discovered are almost always larger than anticipated, which creates urgency to take action.                                                       3) Once embraced, loss reduction thinking can be universally applied to people and processes across an entire organization.
Meet Your Expert Trainer and Coach
Kay Sever has helped companies identify over $100,000,000 of hidden losses!
One of the WORLD'S LEADING EXPERTS in LOSS REDUCTION!
May be the ONLY EXPERT in REDUCING CORPORATE CULTURE LOSSES!
THE PERFECT TRAINER AND COACH to work with your leadership team!

EXPANDS YOUR PERSPECTIVES about what is possible to achieve and change!
GUIDES AND COACHES YOUR TEAM as you apply new strategies and tools that reduce losses and change culture!
GIVES YOU HONEST FEEDBACK about what you must do to be successful!
MiningOpportunity Loss Reduction System
NO FLUFF… Just HARD FACTS, PROVEN METHODS and THE TRUTH about what works and doesn't work…
New Perspectives Reveal Hidden Losses… New Ways of Working Together Convert Them to Profit!
Over 20 years of experience with perspectives and proven tools/tactics for Loss Reduction and Culture Transformation!.
Executives, division managers, site managers, superintendents and supervisors can quantify their profit potential!

Ground-breaking insights and "aha moments" from Kay's 3-year study of management's barriers to change and optimization are included… information that you can't get anywhere else!
In just days, your team will find losses that have been occurring for years and understand why they are happening. You will learn new management behaviors and tactics that "shift" the culture and stop your losses. 

MiningOpportunity Training Options

OPTION 1: SPEND A DAY WITH KAY
For Executives, Division/Site Management Teams/Departments.
Overview of Key Concepts, Valuation and Case Study Examples.
Focus on a Real Problem or Opportunity at Your Site.
Understand the loss and reach agreement on the cause, barriers, management linkages.
Pursue an agreed-to solution involving the management team, culture change and new loss reduction strategies.  
OPTION 2: A SIX-MONTH LOSS REDUCTION/CULTURE TRANSFORMATION PLAN (Page down for session outlines)

Loss Reduction 101 (Beginning Management Level, 5 days of training, 90 days of support)


Workforce Basics – Train the Trainer

(Internal Trainers/Experts, 90 days after 101 training)
Loss Reduction 202 (Advanced Management Level, 5 days of training, 90 days of support)
Annual Spend a Day with Kay (Optional – Retreats, Refresher Training, existing clients only)
OPTION 3: Request OPTION 2 after your OPTION 1 one-day session (50% of Option 1 fee is credited against Option 2 Fee) 
OPTION 4: CUSTOMIZED SCOPE – call to discuss, does not include all the content included in the MiningOpportunity System

Narrow Focus for Culture Change (One Group/Department, Culture Dynamics, Losses, Team Coaching that Changes the Culture)
Management Team Relationships (Building Trust and Collaboration, Losses Linked to Mistrust and Silos, Uniting the Team)
Asset Capacity/Capital Expenditures/Expansions (Discover Hidden Capacity, Integrate this information into Decision Criteria)

Change Initiative Augmentation/Integration

(Company-Specific depending on Initiative and Goals for Change) 
World-Wide Live Stream Support at Your Location

 
No Travel Expenses, No Extra Time Away for Training, Maximum Scheduling Flexibility
Advances in technology make it possible to meet with people face-to-face virtually all over the world… meetings are very personal and very interactive… a high quality exchange of ideas and information.
Culture shift topics are a good fit for live stream coaching and training. All MiningOpportunity Training Modules were designed to work with the Live Stream Option. Much or all of our interaction will use Live Stream technology. As a result, your cost for this training will be lower than on-site support.   
Flexibility Is Important When You Are Running A Company!
For clients across the world, Kay will adjust her schedule for training to meet your schedule, regardless of continent.
For weekly calls, Europe and Africa will be afternoon calls, North and South America will be mid-day calls, Australia and Asia will be morning calls.
If it becomes necessary to reschedule a training session or weekly call, this option makes it easy for you and me. Just let me know and we will select another day that works for both of us.
OPTION 2 TRAINING DETAIL
Loss Reduction 101   (OPTION 2: Beginning Management Level, 5 days of training, 90 days of support) 
Basic training modules introduce concepts about hidden losses, loss calculation methods and links between losses and cultural and management behaviors. New management actions will be shared that 'shift" the culture and stop the losses. Losses will be identified, valued and analyzed for cause. The team will agree to changes that will convert losses to profit. Management barriers to change will be identified and strategies for removing them will be discussed.
Overview
Removing "The Lid" on Performance, Culture and Change.
Eight "Million-Dollar" Mindset Shifts… Value Unleashed!
The 3 P's (Potential, Problems, Projects): Areas of Focus
Losses
Proof of Culture Losses, Why They Are Hidden
Loss Calculation Methodologies
Event-Based Costs – a Second Kind of Variable Cost
Case Studies Linked to Culture Losses.
Loss Report format and Use
Culture
Understanding Your Management Subculture
Numbers Drive Behavior
Fear of Speaking About Problems
The Correlation Between Trust and Profit
Playing Tennis with Problems
Choices – Trading Personal Power for Team Power
Managing Your "Culture Engine"
Creating "One Team" with the Culture Map
Managing the Process of Discovery
What Management Must be Willing to Change to Stop the Losses.
Measures
Selecting KPIs/Measures Linked to Losses
Selecting Values for potential/desired result – price, margin, availability, utilization, rates, min/max optimums
Using Trends to Tell a Story about Change
Structuring Communications for Losses and Key Measures
Strategies for Grouping Loss Measures
Change
Management's Barriers to Change.
Management's "Organizational Dam" – It's Demolition Time!
Case Studies Linked to Management Barriers for Change.
101 Deliverables During Training:
Your team will experience several "million-dollar mindset shifts" as you
Embrace new perspectives about profit and loss… You will NEVER GO BACK to your old way of thinking!
Identify and value losses, prioritize losses and agree to a strategy to stop them.
Create their first Loss Report during training.
Understand culture attributes that cause hidden losses.
Understand management system links to losses.
Learn how to change the "management subculture".
Learn how to build trust and strengthen team relationships.
Understand the strategy behind choosing targets linked to potential.
Know how to select KPIs linked to losses.
Know how to strategically communicate trends.
Be aware of their barriers to change and how they intersect with culture.
Have the skills to take their barriers down so they can stop losses and change faster.
This training fully arms your team with the knowledge and tactics they need to create a Loss Reduction Culture.
Support after 101 training is complete 
Kay will provide the following level of support for 90 days after training ends:
Weekly calls with the team to answer questions about any topic in 101 training.
Weekly review of loss calculations and trends.
Workforce Basics – Train the Trainer   

(OPTION 2: Internal Experts, 90 days after 101 training) 
After completing 101 training and implementing what was learned at the management level, you will want your workforce's help in finding and reducing more hidden losses. I offer a 1-Day training of leaders that you designate as loss reduction trainers. I have personally trained many crews of hourly employees, engineers, analysts, and others not in management and understand what people across an organization need to know to identify losses and communicate them to people in management so that action can be taken. Here are the rules for the day:
My goal is to make your designated trainees "experts" in pulling the workforce into your loss reduction culture.
Your management team will select people who will be training the workforce. I recommend one person per department or one person that can train multiple departments in a plant, office, etc. They need to have good communication skills. Depending on your culture, a person in management OR leaders in their areas of responsibility could be selected.
We will be covering the loss reduction basics that people working in any department need to know: how to identify a problem or area of loss, how to estimate a value of loss, how to communicate the loss to management so it is reviewed.
Before this session is scheduled, management will agree on 1) how to communicate the training that is coming and 2) a process for reviewing ideas from the workforce, deciding which ones to pursue, and giving feedback to close the loop and keep the ideas coming.
Loss Reduction 202   (OPTION 2: Advanced Management Level, 5 days of training, 90 days of support)

Advanced training modules build on 101 modules and turn up management's power!  They link new perspectives, data and choices to management activities that affect cash flow, growth and change. If this link is not made, there will be disconnects between new management perspectives on losses and the processes used to set targets and approve projects/capital spending. These disconnects will result in additional losses and even some "backsliding" of the Loss Reduction culture if not remedied. The MOAB Barrier will be revealed and discussed. Using your new culture to support the success of Change Initiatives will be covered. A process for sustaining the new culture as people transition in and out of management roles will also be shared. REMEMBER: If the culture goes away, your losses resume! There is NO GRAY AREA!    
Integrating Loss Data into Financial Decision Processes 
Case Studies about Linking Potential to Targets and Spending Decisions.

Budgets: Assessing Targets for Reasonableness, Achievability, Stretch
Capital: Evaluating New Requests based on Existing Capacity
Expansions: Capacity Analysis (from a loss perspective) vs. Need for or Placement of Expansion Capital.
Projects: Evaluating Project Contingencies for Culture Impacts

"Practice" meetings where budget, capital, expansions or projects are discussed.
Optimization
New Equipment will not Maximize Profit if a Loss Reduction Culture is not in place.
Management's Barriers to Optimization (requirements, relationships).
Achieving "Site-wide" Optimization (it's about culture, not equipment).
"Plays" for Change – Turning Your Management Team into a "Sports Team"
Change Initiatives
How a Loss Reduction Culture Supports and Sustains Change Initiatives.
Barriers Not Addressed by Change Initiatives.

Management's Barriers to Optimization.
Management's MOAB – Moments that create the greatest risk of loss and how to prevent losses.
Sustaining a Loss Reduction Culture
Management Training Module
202 Deliverables During Training:
Using their new perspectives and skills about Loss Reduction, your team will
Compare budget targets to best/optimum targets to assess upside potential and budget achievability.
Learn to use loss reduction concepts to perform a capacity analysis and refer to it BEFORE approving requests for bigger equipment, bottleneck shifts or expansions.
Dissect project contingencies to determine allowances for culture/organizational weaknesses and reach agreement on management's strategy to fix the problem
Understand "horizontal management" (value stream management) and its link to "site-wide" optimization; identify weaknesses in your team's ability to collaborate and execute "across" the organization.
Become familiar with barriers linked to management system processes.
Review a process for sustaining the new culture as executives and managers transition in and out of the team.

Support after 202 training is complete 
Kay will provide the following level of support for 90 days after 202 training ends:
Weekly calls with the team to answer questions about any topic in 101 or 202 training.
Spend a Day with Kay Optional Refresher (Retreat for existing clients, address specific challenges, >270 days after 101 training) 
After completing 101, Train the Trainer, and 202 training and implementing what was learned, questions and problems arise that did not come up during class. Here are the rules for the day:
My goal is to make you all experts in loss reduction strategies and tactics.
The shift to a Loss Reduction Culture is a new way of doing business… a new way of thinking, new questions, new problems to solve and a new level of performance that you want to sustain for years to come. Some parts of the shift go quickly, others take more time depending on your "old" culture.
We will spend a whole day (8 hours) (or two half-days) having an honest conversation about what is working and what you are struggling with.
You set the agenda. Any question related anything we covered in any of the training sessions is OK.
You select the attendees. I will review the attendee list and may suggest that additional people participate for certain parts of our discussion.
Our goal is to SOLVE AS MANY OF YOUR PROBLEMS AS POSSIBLE so you can avoid backsliding and stop your losses.
Spend A Day With Kay is great for refresher training or an annual retreat as part of your sustainability plan.  Meeting once a year lets us reconnect, assess your progress and provide targeted support for the specific issues you are struggling with. 
EXECUTIVES and MANAGEMENT TEAMS can "MANAGE THE CULTURE"
to STOP YOUR LOSSES and SHIFT YOUR COMPANY'S PERFORMANCE into OVERDRIVE!
Talk to THE EXPERT in LOSS REDUCTION CULTURE METRICS, STRATEGIES and TACTICS!
Click Here to Watch our FREE WEBINAR and Receive a FREE 30-Minute Phone Consultation!  
#StopYourLosses

OPPORTUNITY: The only element with an infinite atomic number and weight. An odorless invisible element defined as a hidden or substandard set of circumstances in business that, when not acted upon, creates invisible losses that reduce profit. These losses can be eliminated by management when linked to beliefs, behaviors and numbers that drive the corporate culture, yielding a desirable green substance found in financial institutions.