Manage to Minimize Losses
Shift Performance into Overdrive
Maximize Profit and Change Faster
#StopYourLosses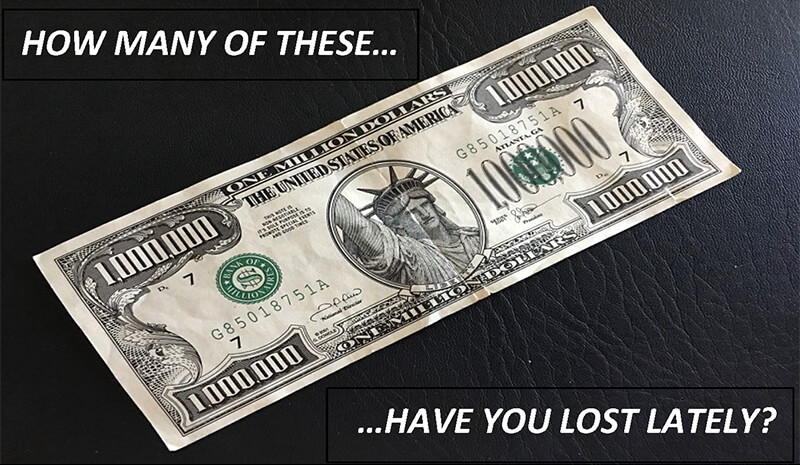 The MiningOpportunity System Gives You Benefits You Can't Get Anywhere Else!
For the past 100 years, companies have reported earnings from the sale of products and services, not knowing the financial losses from cultural/organizational weaknesses that reduced net income. Executives have long suspected that corporate cultures had an impact on profit, but had no way to measure that impact… UNTIL NOW
Now you can "Mine Your Corporate Culture" for Losses using a Proven System for Success.
Reveals the dollars you are leaving on the table and converts them to profit for little or no investment…

FREE money generated by assets and people currently in place… perhaps millions of dollars of extra income.

These losses can be converted to profit and managed like a 2nd income stream with a shift to a Loss Reduction Culture.
How do Corporate Culture Weaknesses Reduce Profit?
When management has a separate set of rules, culture-driven losses will occur.

When people are afraid to talk about problems, culture-driven losses will occur.

When departments interact like a separate company, culture-driven losses will occur.

When the workforce does not trust the management team, culture-driven losses will occur.

When members of the management team do not trust each other, culture-driven losses occur.

When people behave as if they were on opposing sports teams, culture-driven losses will occur.

When management accepts a "It's Just the Way It Is Here" attitude, culture-driven losses will occur.

When high project contingencies are set to cover cultural weaknesses, culture-driven losses will occur.

When recurring problems are accepted as "normal" and even budgeted for, culture-driven losses will occur.

When no numbers exist for losses, unachievable targets and unneeded expansions are likely and losses will occur.  

When management lacks awareness of their direct link to profit, culture and change, culture-driven losses will occur.
If you had a system for strengthening these corporate culture weaknesses, profit would go up!
Now, for the first time, you do… 
It is possible to manage a group of people with the intent of building trust, opening communications and increasing collaboration, with HIGHER PROFITS as the result of this effort. It is also possible to use loss data related to culture weaknesses strategically to shift the culture so that people are taking action to prevent losses at every level of the company. When this happens, money that you did not know you were losing is tracked and reported, and losses get smaller as the culture changes. MiningOpportunity was designed to:
CORRECT these culture weaknesses so that profit goes up and change happens faster.
"SHIFT" the culture to one with a loss reduction focus, which sustains new found profits for years to come.
REMOVE barriers within the management system and corporate culture that prevent change. 
REVEAL the links between profit, culture and change so that management can "manage" those links for the company's benefit.        
MiningOpportunity Reveals the Hidden Links Between Profit, Culture and Change:
THE PROFIT-CULTURE CONNECTION:
Management Systems Can Limit Profit!
Financial systems tell companies how much money they made, but not how much they LOST to make it!

The actual vs. budget variance traditionally measures success, while profit potential remains hidden/unknown.

Management never sees numbers about profit potential, so they are missing the data they need to:

Measure the impact of their corporate culture on profit.
Create a shared goal and urgency to "chase" lost or hidden potential.
Determine the achievability of budget targets.
Identify hidden excess capacity when evaluating plans for capital spending, optimization and expansions.
Strategically Shift to a management style/culture focused on Loss Reduction.
Ask questions about what is possible to achieve.
MiningOpportunity makes the connection between Profit and Culture and gives management access to their hidden profit potential:
Adds a "3rd Dimension" that expands the vision of executives "Beyond Budget".
Quantifies/Reduces/Eliminates culture losses.
Offers New Perspectives, Ways to Work Together and Choices that reduce losses and shift the culture.
Accelerates a culture shift by uniting people under a shared goal of "Loss Reduction".
Links Losses to certain management styles that have a Risk of Loss.
Reveal Hidden Upside Potential, useful for evaluating capital, expansions and optimization plans.
Enhances A Few Management System modules… It does not replace the entire management system.
Provides answers to questions about "How good can we be?"
Enables Site-Wide Optimization, where People and Equipment Achieve their Best Performance Every Single Day!
THE CHANGE-CULTURE CONNECTION:
Traditional Improvement Initiatives Can Limit Change!
Improvement Goals are set and measured based on actual performance or budget goals. Numbers that quantify what is possible to achieve or the impact of culture on profit and change are usually missing, unknown or overlooked.   
Traditional solutions to problems are mostly process-focused. Corporate culture is often omitted from the scope OR is just "expected to change" as the result of process work… a FALSE ASSUMPTION that results in many unrecorded losses!
The links between the management system, financial losses and a company's ability to change are seldom delineated.
PLEASE REMEMBER THIS: If a problem was not caused by a process, then it cannot be fixed with a process change. This is especially true when it comes to changing corporate culture!  
MiningOpportunity makes the connection between Change and Culture and promotes Faster Change:
Augments/Supports the effectiveness of ANY improvement program before, during and after implementation.
Provides a "3rd Dimension" that quantifies potential and that Impacts Improvement Goals.
Defines the relationship between management system, financial losses and a company's ability to change.
Redefines management's active role in the change process. They "drive" the bus, instead of riding in the back of the bus.
Expands the scope to include Management Perspectives, Ways to Work Together, and Choices linked to Change.
Removes the Barriers to Change at the Management Level, which accelerates change to a great degree.  
Provides a "Management Module for Sustaining Change" that is Linked to the Culture (the secret to success).
THE SECRET TO MAXIMUM PROFIT and FAST CHANGE IS A LOSS-REDUCTION CULTURE:
You Can Shift to a Loss Reduction Culture that Delivers More Money… Happier People… Faster Change
A Loss Reduction Management Focus converts losses to profit and problems to opportunities.
It helps your people see what they could not see, fix what they could not fix, and change what they could not change.
"Million-Dollar Mindset Shifts" occur as leaders explore what's missing and learn how they directly impact profit.
When people learn that culture can hide potential, divide people, steal profit and hinder change, amazing things happen!
Barriers to change collapse and change accelerates!
People open up, unite and collaborate with a new purpose.
They can measure the contribution they made to the bottom line, perhaps for the very first time.
The culture is linked to a second income stream (separate from profit generated by products & services).

Profit is maximized and you know that your people are delivering their best work every single day.

Site-wide optimization is finally possible!
SO MANY BENEFITS are Gained from Using the MiningOpportunity System.
It's time to ask 2 questions:
"Would you like to make more money, have happier people and faster change?"
"Is your management team willing to change to experience these benefits?"
If the answer to both questions is "Yes", it's time to get to work!
Click Here to Watch our FREE WEBINAR and Receive a FREE 30-Minute Phone Consultation!
#StopYourLosses

OPPORTUNITY: The only element with an infinite atomic number and weight. An odorless invisible element defined as a hidden or substandard set of circumstances in business that, when not acted upon, creates invisible losses that reduce profit. These losses can be eliminated by management when linked to beliefs, behaviors and numbers that drive the corporate culture, yielding a desirable green substance found in financial institutions.